Blockchain Anywhere with Nxt on Android
27 April 2020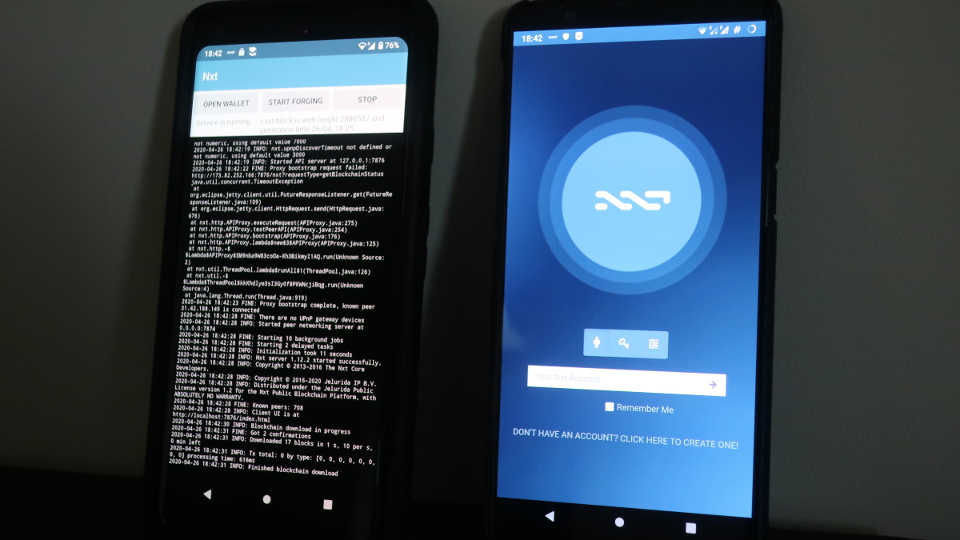 Jelurida is proud to announce the latest stable Nxt release, version 1.12.2. Following a recent hardfork that activated several new features, this is mostly a maintenance release that doesn't introduce new functionality. However, this is the first Nxt release to include an Android Full Node package, which allows users to run a complete Nxt node on their smartphones and other supported Android devices.
The Blockchain Anywhere initiative was launched by Jelurida last year, with the release of a full Ardor node for Android, and quickly became an overwhelming success, with more than 100 users installing Ardor and participating in our promotion. Now, faithful to our dedication to true decentralization, we are continuing the Blockchain Anywhere project by also releasing a full node Android package for the Nxt blockchain. With an improved configuration UI, and more reliable UPnP implementation, running Nxt on your mobile phone all the time is now possible. Forging on Android devices eliminates the risk of having to trust a hosting provider for running your forging nodes, and with mobile devices each having a full copy of the blockchain, validating all blocks and transactions, the resilience and stability of the Nxt network is significantly increased. With its energy efficiency, the first pure proof-of-stake blockchain, Nxt, continues to demonstrate its advantages over proof-of-work decentralized ledgers such as Bitcoin, where mining on a mobile device is completely unfeasible.
The Android Full Node package is available from the official Nxt downloads page. After installation, users can either wait for full peer to peer blockchain download, or speed up the process by bootstrapping the database with a copy automatically downloaded from the Jelurida servers. A user friendly dialog is provided to simplify the forging setup and other configuration parameters. Detailed instructions are available online.