eSignus partners with Jelurida to integrate Ardor, Ignis and Nxt in HASHWallet Link
14 December 2022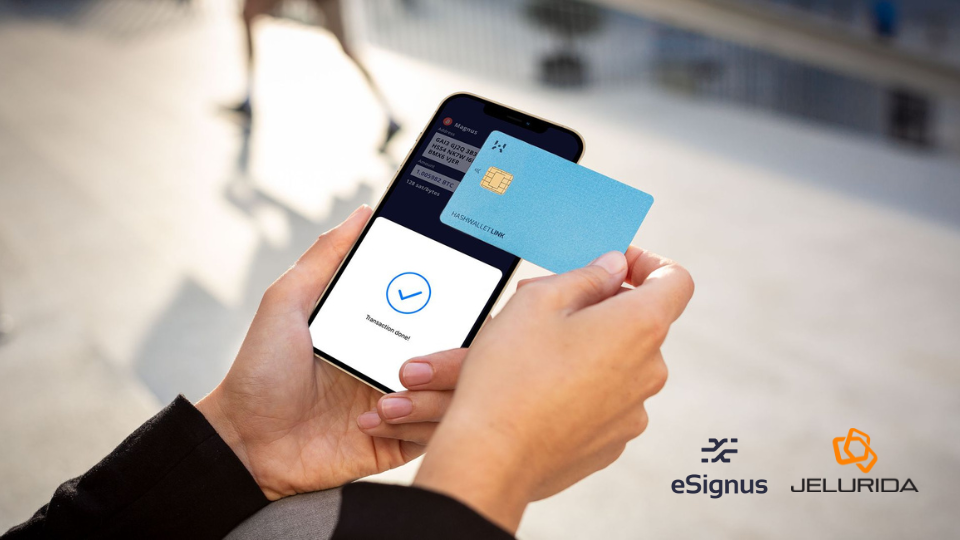 The blockchain and cybersecurity consultancy eSignus has finished the integration of the Ardor, Ignis and Nxt protocols into the hardware wallet HASHWallet Link. With this integration, HASHWallet becomes one of the first cold wallets that supports Ardor, allowing his large community to easily store, buy, sell and swap their $ARDR, $IGNIS and $NXT tokens.
HASHWallet Link is a secure yet convenient solution in the shape of a smart card to store and manage any cryptocurrency. Being a non-programmable hardware wallet, this physical device keeps the private keys offline and avoids any risk of unauthorized access or fraud.
"We are delighted with all the possibilities that this partnership with Jelurida opens, which allows us to give support with HASHWallet to a very consolidated and demanding Ardor community"- Daniel Hernandez, CEO and Co-Founder of eSignus.
Jelurida and eSignus have accomplished this integration as part of a broader strategic plan with the aim to increase Ardor's presence in cold wallets. "Providing our users with a cold storage solution for their assets and credentials is a top priority for Jelurida. We are excited to work with HASHWallet to provide such a state-of-the-art cold storage solution"- Lior Yaffe, Director and Co-Founder of Jelurida.
With this agreement, Jelurida goes one step further towards consolidating strategic relationships to strengthen the Ardor ecosystem and moves towards its mission of facilitating the adoption of blockchain technology on a mass scale.
Special launch offer
To celebrate the integration of Ardor into HASHWallet, Jelurida launches a special deal focused on its community. The first 300 HASHWallet Link purchases will be rewarded with an airdrop worth 45€ composed of the Jelurida tokens: 25€ in $IGNIS, 10€ in $NXT, and 10€ in $ARDR. Users will receive a single-use code with their smart card packaging, that must redeem in the HASHWallet Manager app after initializing their HASHWallet link card. Use the code JELURIDA22 when you order the HASHWallet Link, or the link: https://shop.esignus.com/discount/Jelurida22, to get the promotion.
About eSignus
eSignus is a consulting cybersecurity company experienced in the financial, technology, and crypto security sectors. The company provides digital and crypto assets custody Web3 solutions including hardware wallets and digital identity management. eSignus facilitates the integration of the decentralized economy into business environments at a global scale.
The announcement has been covered in Coinspeaker, Cryptonews, Crypto.News and FinanceFeeds media.