Jelurida Weekly Wins
06 September 2019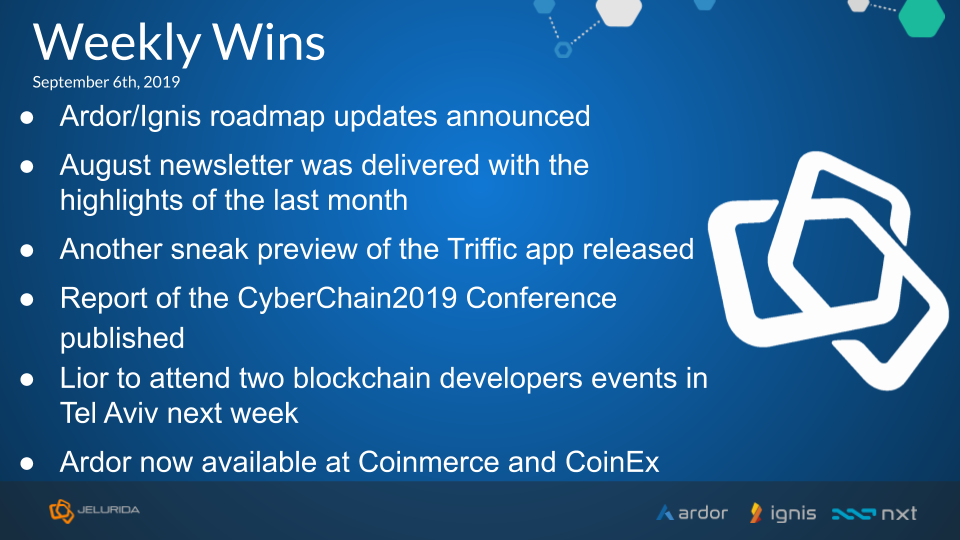 Ardor/Ignis roadmap updates announced
Ardor/Ignis development is proceeding steadily with milestones reached one by one. With child chain control ready to be used by all business cases that will potentially need it, we are focusing on the next big thing - the pruning feature which is going to make the Ardor platform even more scalable, efficient and ready to address the challenges and growing demands in front of the mainstream blockchain adoption. You can read everything about the roadmap updates in the dedicated article.
August newsletter was delivered with the highlights of the last month
Even being a vacation month, August did not go uneventful for us. We closed a successful week with the International Telecommunication Union, had nice team building event in our headquarters in Lugano, released a new Nxt version and attended the usual events and conferences. If you missed the newsletter, you can read it here. For everyone who wishes to subscribe, please follow this link.
Another sneak preview of the Triffic app was released
Triffic - the augmented reality lifestyle app and one of the most promising projects building on Ardor, released a new preview of their app (scheduled to go live later this year). Triffic's CEO - James Malach, also shared on the ardornxt community slack that the team is working on GPS Spark - a companion app to Triffic, which will put GPS tokens at the center of a global ecosystem of local community currencies.
Report of the CyberChain2019 conference published
Our Lagos based team is unstoppable attending regularly numerous events, organizing meet-ups and talking to customers and community. A full report from their recent attendance at the Cybersecurity and Blockchain Conference 2019 last week is now available. And in case you missed it - Jelurida Africa is also hosting the OKEx's Lagos Talks this Sunday in their office in Lagos. It is a free event and Adedayo will be giving one of the keynotes.
Lior to attend two blockchain developers events in Tel Aviv next week
Lior will be attending two developers events next week in the Tel Aviv University. Bitcoin Edge Dev++ and the Bitcoin Scalability Workshops are both focused towards bitcoin/blockchain scalability and Lior will have the opportunity to exchange ideas and share our blockchain scalability insights with a larger developers community.
Ardor now available at Coinmerce and CoinEx
ARDR is now available at the Dutch cryptocurrency trading platform Coinmerce and at CoinEx Exchange. Deposits and withdrawals at CoinEx opened on Sep 3. Trading pairs available are ARDR/BTC and ARDR/BCH.