Jelurida's Weekly Wins
09 August 2019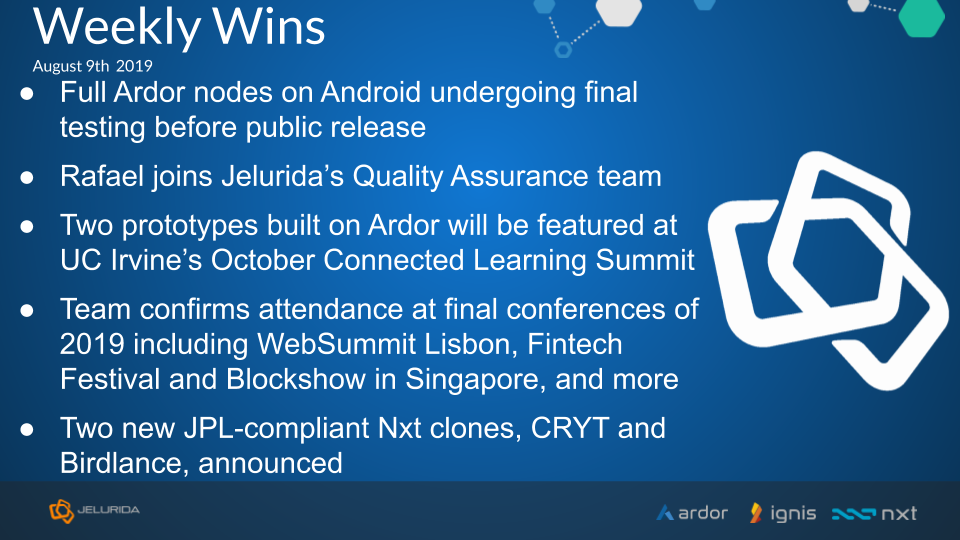 Full Ardor nodes on Android undergoing final testing before public release
What if you could fit the entire Ardor blockchain in your pocket? After all, accessibility is the key to decentralization. Full nodes on Android devices are nearing reality as the team begins its final testing before public release. New use cases involving IoT sensors and smart devices running on Android will soon become a reality and once full pruning goes live in the next several months, memory constraints on these smaller devices will no longer be a concern.
Rafael joins Jelurida's Quality Assurance team
After a year of work at company headquarters, Rafael has shifted from his role as office manager into a quality assurance (QA) position, making him the 7th employee on Jelurida's R&D team. With new releases expected in the coming weeks, Rafael's attention to detail will be an excellent benefit to the testing process ahead of public launches.
Two prototypes built on Ardor will be featured at UC Irvine's October Connected Learning Summit
Alex Pfeiffer has been diligently working to explore Ardor's relevance in academia during a blockchain research project at Massachusetts Institute of Technology (MIT). From October 2-5, 2019, he will fly to the west coast to present prototypes for blockchain-based eLearning and serious gaming applications at UC Irvine's Connected Learning Summit. Learn more about the event today. Additionally, keynote speeches by Alex Pfeiffer are lining up in Austria over the coming weeks, with full announcements coming soon.
Team confirms attendance at final conferences of 2019 including WebSummit Lisbon, Fintech Festival and Blockshow in Singapore, and more
After several days of strategic meetings at Jelurida's Lugano headquarters, the team has finalized a schedule of conferences through the end of 2019. Attendance has been confirmed for WebSummit Lisbon, Fintech Festival and Blockshow in Singapore, Decentralized in Athens, Fintech Week Berlin, and more.
Two new JPL-compliant Nxt clones, CRYT and Birdlance, announced
Nxt remains one of the most cloned blockchain protocols after Bitcoin. This week, two JPL-compliant clones, CRYT and Birdlance, were announced through various channels. CRYT is looking to use the asset issuance and exchange and dividend payment systems that originated in Nxt to create their own peer-to-peer asset management system. Meanwhile, Birdlance is seeking to provide a solution for managing online stock images and authenticity management for photographs.