Jelurida's Weekly Wins
21 June 2019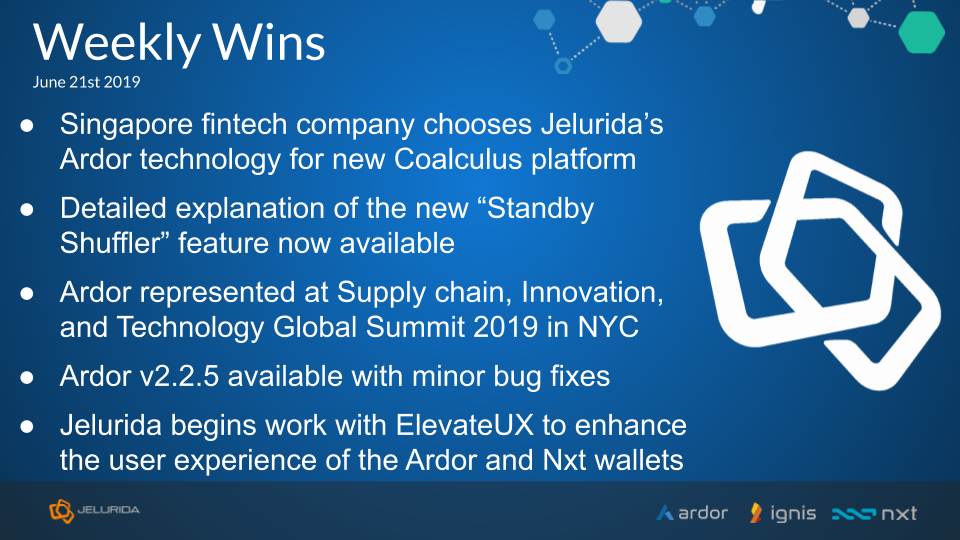 Singapore fintech company chooses Jelurida's Ardor technology for new Coalculus platform
Singapore-based global payments technology company, Wise MPay, are working with Jelurida to launch a public-permissioned blockchain financial services (BFS) platform, Coalculus, based on Ardor's technology. Numerous outlets from Cointelegraph Deutsch to the Swiss Global Enterprise took note of this substantive partnership. Wise MPay's Coalculus will be JPL-compliant and details on the airdrop for Ignis holders will be announced as the platform's September 2019 launch approaches. Read the full press release by clicking the language of your choice:
English French German Spanish
Detailed explanation of the new "Standby Shuffler" feature now available
With the release of Ardor version 2.2.4 and 2.2.5 over the past week, many community members had questions about the functionality of the "Standby Shuffler" add-on. This week, lead software architect Tomi Gountchev published a detailed overview of how this new feature works, and why and when it should be used.
Ardor represented at Supply chain, Innovation, and Technology Global Summit 2019 in NYC
The Worldwide Supply Chain Federation hosted its first summit focused on Supply Chain, Innovation, and Technology at Microsoft's offices in Times Square, NYC this week. Skylar was on site to educate other builders about the Ardor blockchain's simple APIs and stateless smart contracts. Check out his reflection piece on the event for insights into the lessons learned.
Ardor v2.2.5 available with minor bug fixes
After releasing Ardor version 2.2.4, Jelurida issued a second update over the weekend to address some minor bugs related to the Standby Shuffler. Remember to update your client to the latest version - 2.2.5 - before using the new feature.
Jelurida begins work with ElevateUX to enhance the user experience of the Ardor and Nxt wallets
Jelurida is ramping up its work on improving the user interface and user experience of the Ardor and Nxt wallets. After hiring Mike Dobrin as the company's expert client side developer for improving the user interface, ElevateUX has been contracted by Jelurida to provide insights into the necessary user experience improvements for making the company's products more accessible to mainstream users. A series of minor updates to the Ardor and Nxt wallets are expected in the coming weeks, followed by a more comprehensive overhaul over the coming year.