Jelurida's Weekly Wins
24 May 2019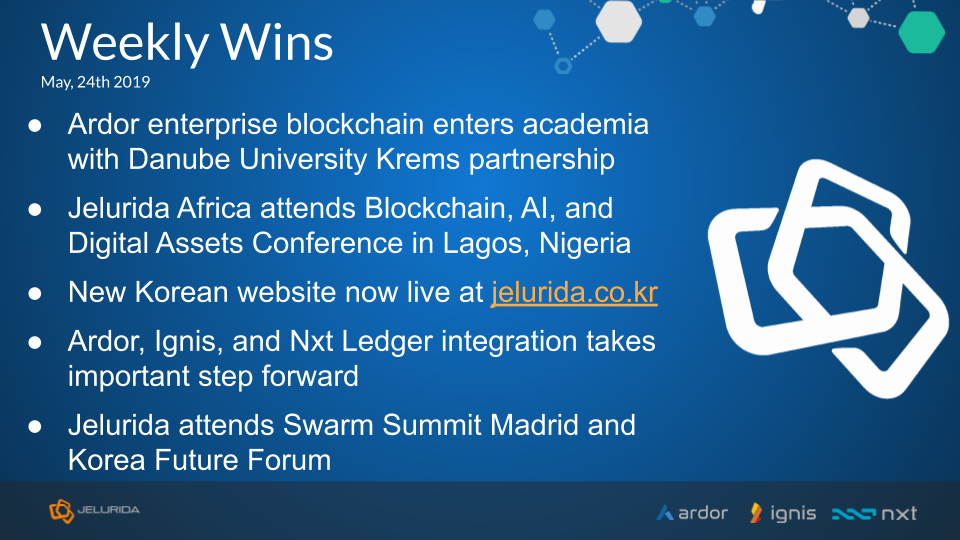 Ardor enterprise blockchain enters academia with Danube University Krems partnership
Jelurida signed an official partnership with the prestigious Danube University Krems to facilitate research and experimentation around blockchain technology in gamification, serious gaming, and leisure and entertainment games. Key outcomes will include hackathons, academic papers, and a public e-learning portal to share lessons learned. Read the full announcement to find out how Ardor, Ignis, and Nxt will benefit from this exciting development.
Jelurida Africa attends Blockchain, AI, and Digital Assets Conference in Lagos, Nigeria
Jelurida Africa was a lead sponsor of the Blockchain Nigeria Group's conference on May 24th focused on Blockchain, AI, and Digital Assets. Adedayo Adebajo provided a demonstration of the Ardor platform's Ignis child chain and participated in a panel on the future of finance in Africa.
New Korean website now live at jelurida.co.kr
This week, Jelurida.co.kr was launched as the new entry point for Korean audiences to engage with the Ardor blockchain and Ignis child chain. Check the site for new content in the coming weeks as Jelurida Korea continues to build out its branding and communication materials.
Ardor, Ignis, and Nxt Ledger integration takes important step forward
Lior Yaffe followed up on his recent Ledger teaser video with the announcement that a major technical milestone had been reached earlier this week: ECDSA keys generated by Ledger can now be converted to their ECKCDSA public keys used in Jelurida's products. Having reached this milestone, the countdown has truly begun for the public launch of Ledger integration.
Jelurida attends Swarm Orange Summit Madrid and Korea Future Forum
Jelurida's staff continued to raise awareness about Ardor, Ignis, and Nxt with attendance at the Swarm Orange Summit in Madrid and the Korea Future Forum.