Jelurida's Weekly Wins
10 May 2019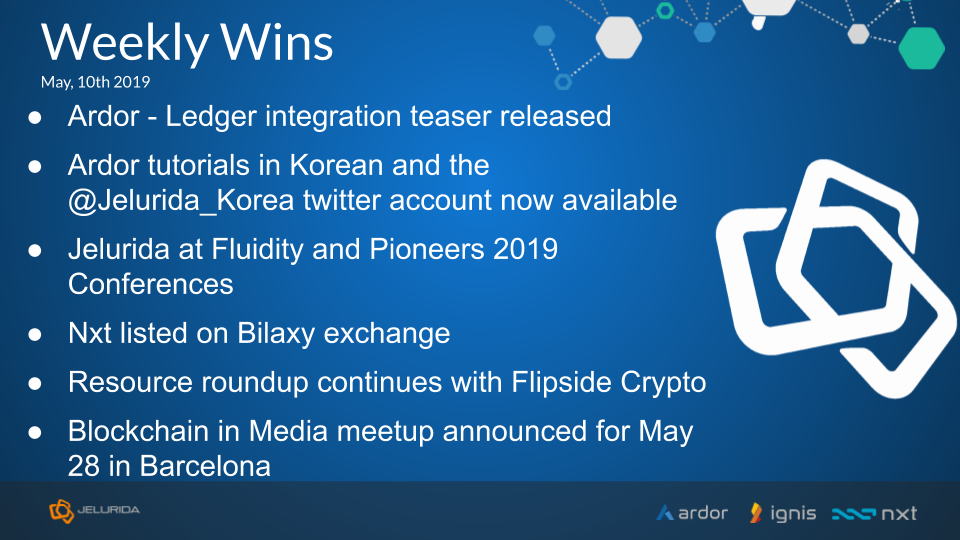 Ardor - Ledger integration teaser released
As promised in the updated Ardor roadmap, Ledger hardware wallet integration is coming soon to Ardor, Ignis, and the rest of the platform's child chains. Check out the recent teaser video from Lior Yaffe on youtube and keep an eye out for further announcements in the coming weeks!
Ardor tutorials in Korean and the @Jelurida_Korea twitter account now available
Jelurida is putting the necessary infrastructure in place for a successful long-term operation in South Korea. New tutorials for using Ardor platform are available in Korean thanks to community member ZeusPSK and an official @Jelurida_Korea twitter account has been created. Watch the videos and follow the new account today!
Jelurida at Fluidity and Pioneers 2019 Conferences
Team members were at NYC's Fluidity conference and the Pioneers 2019 conference in Vienna, Austria to network and spread the word about Ardor's capabilities.
Nxt listed on Bilaxy exchange
Looking for a new place to purchase and trade NXT tokens? Head on over to Bilaxy, a new exchange that recently announced support for the token, after already listing Ignis and Ardor.
Resource roundup continues with Flipside Crypto
The team has been working tirelessly to contact rating websites and cryptocurrency information databases to update information around Ardor, Ignis, and Nxt. This week, significant progress was made with Flipside Crypto, the rating site that now provides scores on Coinmarketcap. An updated score is expected in the coming days.
Blockchain in Media meetup announced for May 28 in Barcelona
Learn about potential blockchain use cases in the media industry – and find out how Ardor provides the ideal tool set for making these business concepts reality. Head on over to Meetup.com to RSVP for the event now!