Jelurida's Weekly Wins
03 May 2019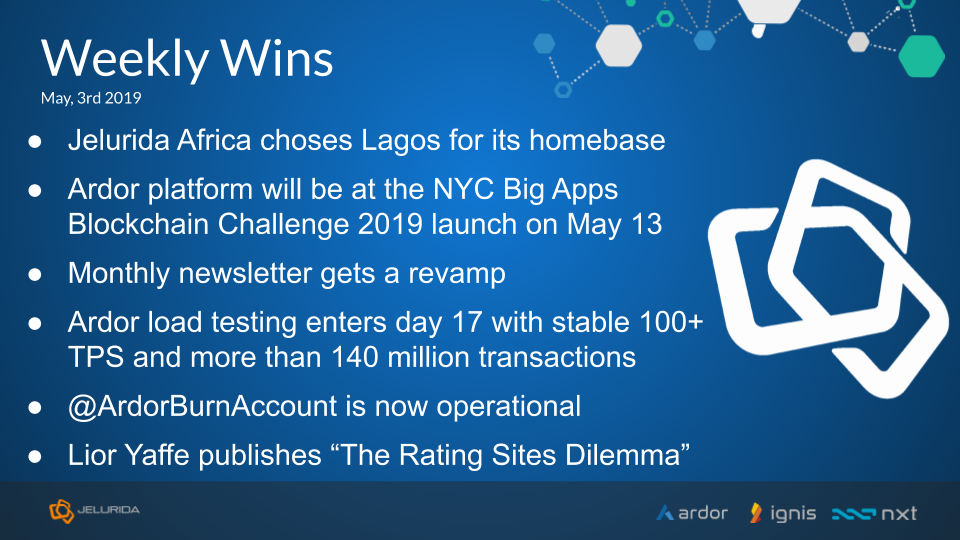 Jelurida Africa choses Lagos for its home base
Jelurida is excited to announce it is officially establishing a Jelurida Africa office in Lagos, Nigeria to make it easier to engage with students, entrepreneurs, and partners. The office will be led by Adedayo Adebajo, who joined Jelurida more than a year ago and has been busy inspiring young developers at hackathons and conferences across West Africa ever since. Several additional staff will be joining Adedayo at Jelurida Africa, with more announcements to come.
Ardor platform will be at the NYC Big Apps Blockchain Challenge 2019 launch on May 13
New York City is looking for innovate blockchain applications for increasing the efficiency of public services and processes. Skylar Hurwitz, Jelurida's US-based capacity building consultant, will be on-site at General Assembly during the #NYCBigApps Blockchain Challenge 2019 launch to introduce developers to just how easy it is to launch an app on the permissionless Ignis child chain using the Ardor platform's 250+ APIs, javascript wrappers, and more.
Monthly newsletter gets a revamp
Jelurida has relaunched the company's monthly newsletter. Check out the April updates and subscribe to get regular news directly in your inbox.
Ardor load testing enters day 17 with stable 100+ TPS and more than 140 million transactions
Ready and reliable. The Ardor load testing that began more than 2 weeks ago has entered its 17th consecutive day supporting a stable 100+ transactions per second on. Thus far, the testing has resulted in more than 140 million confirmed transactions on Layer 1, and the count continues.
@ArdorBurnAccount is now operational
There are a wide variety of situations where developers and businesses need to burn, or destroy, tokens that are no longer needed. That can be difficult on an immutable ledger – which is why Jelurida announced the launch of an official @ArdorBurnAccount for situations where its delete share APIs are not applicable. The account functions just like any other alias – users can create a new transaction, enter the "@" symbol followed by the alias name, and then send funds to the account. Read the full announcement for more details on how the burn account was configured and when it is most appropriate to use it.
Lior Yaffe publishes "The Rating Sites Dilemma"
The past several months, Jelurida has reported on its Resource Roundup initiative to provide rating websites and cryptocurrency databases with updated information on Ardor, Ignis, and Nxt. Despite the company's consistent attention to the issue, new sites are popping up daily with biased scoring algorithms that unfairly dock Jelurida's products. Lior Yaffe reflects on these issues in his latest blog piece.