Jelurida's Weekly Wins
26 April 2019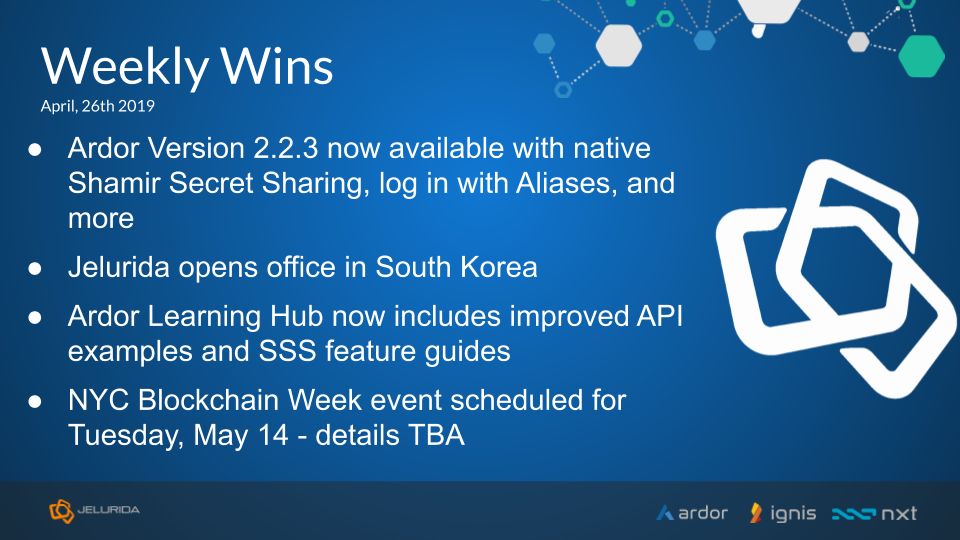 Ardor Version 2.2.3 now available with native Shamir Secret Sharing, log in with Aliases, and more
Ardor version 2.2.3 is now available with fresh features, user interface enhancements, and networking optimizations resulting from recent load testing. Noteworthy updates include a new layer of security for secret passphrases using Shamir Secret Sharing and the ability to use aliases as your log in and as the recipient of messages and transactions. See the full announcement for more details.
Jelurida opens office in South Korea
Continuing with the company's recent commitment to expand its presence in South Korea, Jelurida announced it would be establishing an office at the Nonce coworking facility in Gangnam, Seoul. This was a strategic move to support the work of Cheoleung Kim, who recently joined the team full-time to build awareness and trust in this important market as a local company representative.
Ardor Learning Hub now includes improved API examples and SSS feature guides
The amount of information at the Ardor Learning Hub continues to grow. This week, new API buttons were added to make it easier for new developers to test Ardor code examples. Additionally, new Shamir Secret Sharing API documentation and guides were made available to help users take advantage of the new security features.
NYC Blockchain Week event scheduled for Tuesday, May 14 - details TBA
Jelurida will be sponsoring the Blockchain for Business – Philadelphia and New York meetup group's event during NYC Blockchain Week at the Joynture co-working space at 48 Wall Street. "Making Blockchain Ready for Mainstream" is the theme of the 90 minute event, with the first speakers taking the floor at 6pm on Tuesday, May 14th. Check the meetup page for more info.