Jelurida's Weekly Wins
23 March 2019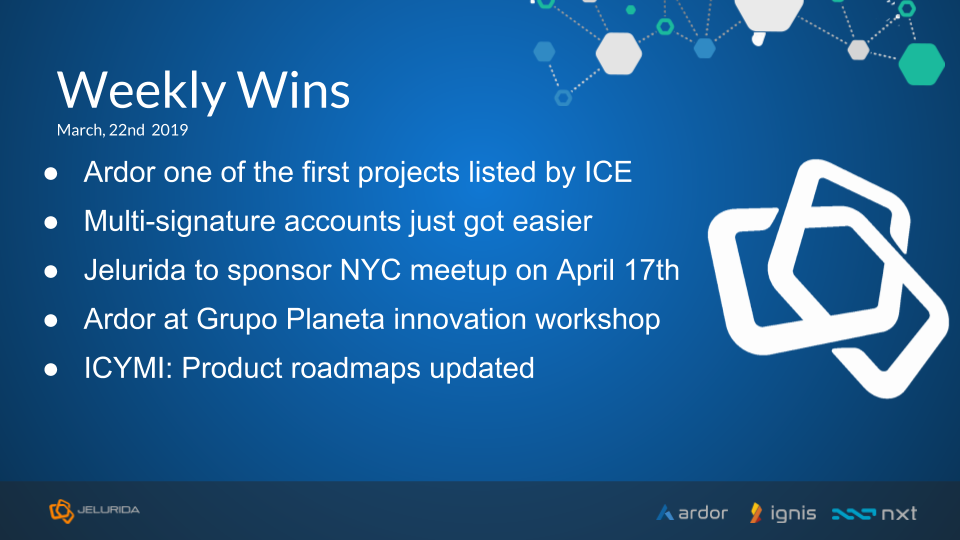 Ardor one of the first projects listed by ICE
Intercontinental Exchange (ICE), the parent company of the New York Stock Exchange, announced they have added just 58 digital currencies to their cryptocurrency data feed – and Ardor was at the top of the list.
Multi-signature accounts just got easier
Features don't matter if they have no real world value. On the Ardor platform, the composite phased transactions are one of the most under-utilized functions. A new guide on the Ardor Learning Hub makes the feature real with an example of how to emulate a multi-signature account on child chains.
Jelurida to sponsor NYC meetup on April 17th
Jelurida will be sponsoring the first NYC event by the Blockchain for Business – Philadelphia and New York meetup group on April 17th at The Brooklyneer in Manhattan. The event will begin just after the IMN Synchronize DLT for Financial Institutions Conference. Attendees will participate in an overview of blockchain as a service technologies and use cases, followed by Q&A and networking sessions.
Ardor at Grupo Planeta Innovation Workshop
Grupo Planeta invited Jelurida's Veronica Torras to their recent Innovation Workshop to provide an introduction to blockchain technologies. The event was an excellent opportunity to show off some of Ardor's unmatched functionalities that make it an ideal solution for businesses.
ICYMI: Product Roadmaps Updated
Last week, Jelurida released updated product roadmaps for Ardor, Ignis, and Nxt. For those interested in a more visual roadmap, community member Madfox put together a nice video.