Jelurida's Weekly Wins
19 July 2019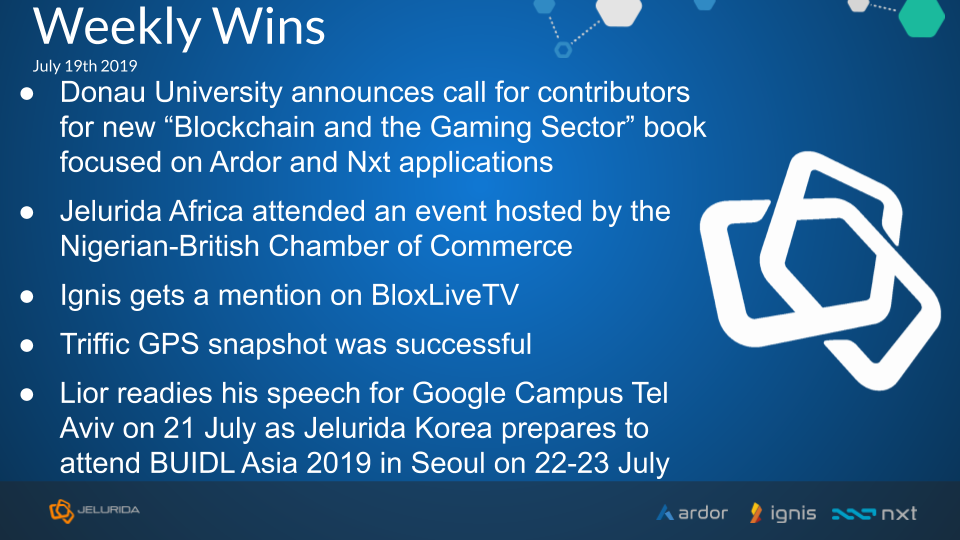 Donau University announces call for contributors for new "Blockchain and the Gaming Sector" book focused on Ardor and Nxt applications
Do you have knowledge of ideas, proofs of concept, and/or running applications built on Ardor and Nxt for the gaming sector? Donau University wants to hear from you. The university will be publishing a book on "Blockchain and the Gaming Sector" in early 2020 covering topics like an introduction to the mechanics of Ardor and Nxt, serious gaming, collectible games, gamification, and gambling/iGaming. An open submission window for book chapters is running from today through 31 October 2019. Learn more!
Jelurida Africa attended an event hosted by the Nigerian-British Chamber of Commerce
Adedayo continues his work to build the reputation of the recently established Jelurida Africa office. On July 18, he took his team to network with C-suite executives at the "Blockchain: Rethinking Business Systems" event hosted by the Nigerian-British Chamber of Commerce in Lagos.
Ignis gets a mention on BloxLiveTV
BloxLiveTV is a new online video news outlet for the blockchain space that has been growing in popularity over the past several months. This week, Ignis got a shout out with a quick introduction to its powerful features and recent market performance.
Triffic GPS snapshot was successful
At block height 818,000 the Triffic snapshot of Ignis account balances successfully occurred. Anyone who held their IGNIS tokens in a wallet outside of an exchange will be able to claim 1 GPS token for every 5 IGNIS when the Triffic application launches later this year. Until then, check out the most recent teaser of this exciting application that gamifies loyalty rewards in a fun "Pokemon Go" format.
Lior readies his speech for Google Campus Tel Aviv on 21 July as Jelurida Korea prepares to attend BUIDL Asia 2019 in Seoul on 22-23 July
This upcoming week is lining up to be an exciting one as Lior prepares to speak at a Google Campus event hosted by Fusion LA and 101 Blockchains on the 21st of July. Meanwhile, Cheoleung Kim is preparing for two-days of networking at the BUIDL Asia 2019 event in Seoul on the 22nd and 23rd of July.