Jelurida's Weekly Wins
05 July 2019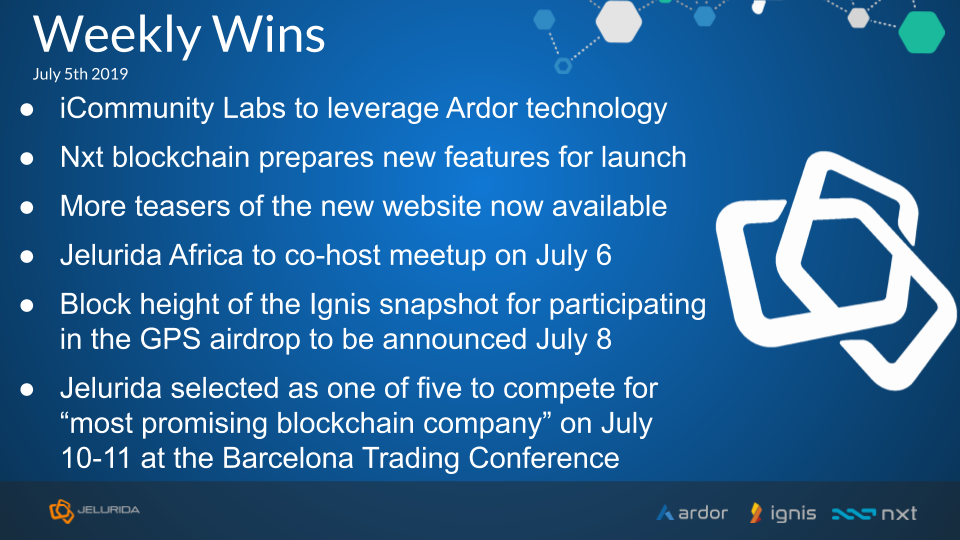 iCommunity Labs to leverage Ardor technology
iCommunity Labs, a Spanish-based software consultancy, have signed a cooperation agreement with Jelurida to develop blockchain solutions for various industry verticals by leveraging Ardor's technology. The two organizations are currently engaged in ideation workshops, with plans for building out prototypes and production ready applications in the coming months.
Nxt blockchain prepares new features for launch
There has been significant progress in bringing new features to Nxt as promised in the 2019 roadmap. Users will soon be able to assign asset properties, increase the quantity of assets, and perform dividend payments on different assets and monetary supplies.
More teasers of the new website now available
Progress on the new Jelurida website continues to move full steam ahead. Teaser screenshots were shared on twitter to give the community a sneak-peek at the forthcoming design overhaul. As the project nears completion, the focus is shifting toward finalizing written web content.
Jelurida Africa to co-host meetup on July 6
Jelurida Africa continues to build its relationship with the Blockchain Nigeria User Group. The organizations are partnering to host an "Unchained Blockchain" meetup in Lekki, Lagos on July 6th.
Block height of the Ignis snapshot for participating in the GPS airdrop to be announced July 8
On Monday July 8th, Coinerz Group, the firm behind the forthcoming Triffic application which has branded itself as the "Pokemon Go of loyalty points," will be announcing the precise block height of the snapshot of Ignis accounts scheduled for July 14, 2019. Users who register their Ardor address in the Triffic application will be able to claim 1 GPS token for every 5 IGNIS tokens based on account balances at the time of the snapshot. For more details, check out the official website.
Jelurida selected as one of five to compete for "most promising blockchain company" on July 10-11 at the Barcelona Trading Conference
Jelurida is proud to be one of just five organizations selected by Finance Magnates and Finnovating to compete for the title of "most promising blockchain company" at the Barcelona Trading Conference on July 10-11. The winner will receive a mentorship supervised by Finnovating Founder Jesús Pérez Sánchez, as well as flex seat access at the new Crypto Plaza coworking center in Madrid. The session takes place on July 10 in the Main Speaker Hall at 16:00.