Jelurida's Weekly Wins
14 June 2019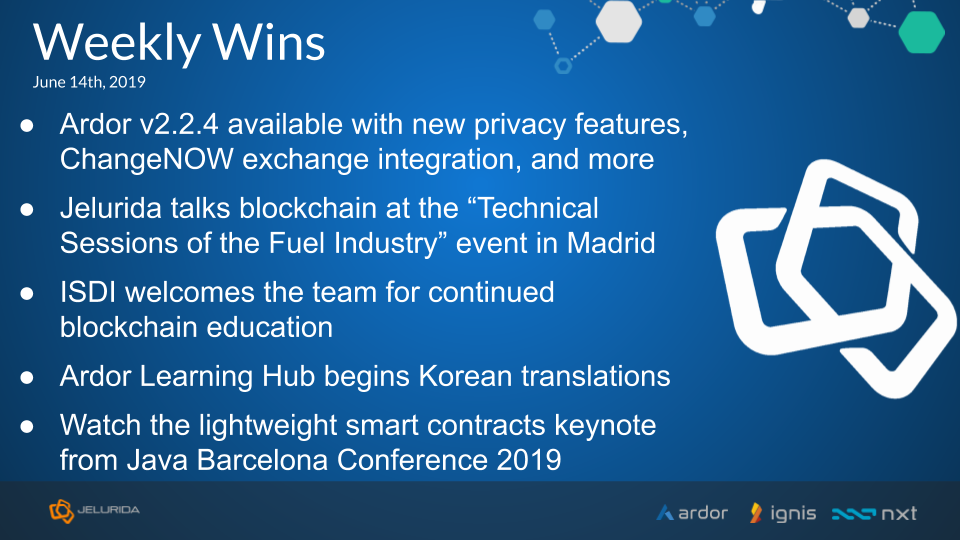 Ardor v2.2.4 available with new privacy features, ChangeNOW exchange integration, and more
Ardor version 2.2.4 was introduced to the public this week with numerous enhancements, including a new Standby Shuffler add-on for protecting privacy and the integration of ChangeNOW exchange into the Ardor client wallet for easy IGNIS/ARDR exchanges with 170+ other coins. Check out the full changelog today for more details and download the new version of Ardor now.
Jelurida talks blockchain at the "Technical Sessions of the Fuel Industry" event in Madrid
Francisco Sarrias was invited to speak about the potential of blockchain in the fuel sector during a conference on "Technical Sessions of the Fuel Industry" in Madrid on June 13th. Attendees got an initial introduction to blockchain's ability to streamline fuel supply chains, logistics, and trading.
ISDI welcomes the team for continued blockchain education
Alberto Fernandez was once again at ISDI Business School in Madrid to build on previous lectures and instruct the Master of Internet Business students on the far-reaching potential of blockchain. The online session featured a demonstration of the Ardor platform's vast capabilities and focused on how they can add value to existing business processes and enable new types of business concepts.
Ardor Learning Hub begins Korean translations
As Jelurida Korea's presence continues to expand, demand has grown for technical information that is easy to digest. Cheoleung Kim has been hard at work translating the extensive documentation on the Ardor Learning Hub for Korean audiences. The effort will take several weeks, but initial results can already be seen.
Watch the lightweight smart contracts keynote from Java Barcelona Conference 2019
Lior Yaffe was in Barcelona last month for a series of events occurring around the Java Barcelona Conference 2019 and his keynote speech on lightweight smart contracts has now been made available on youtube for anyone to learn more about this powerful tool for automating complex business processes.