Jelurida's Weekly Wins
17 May 2019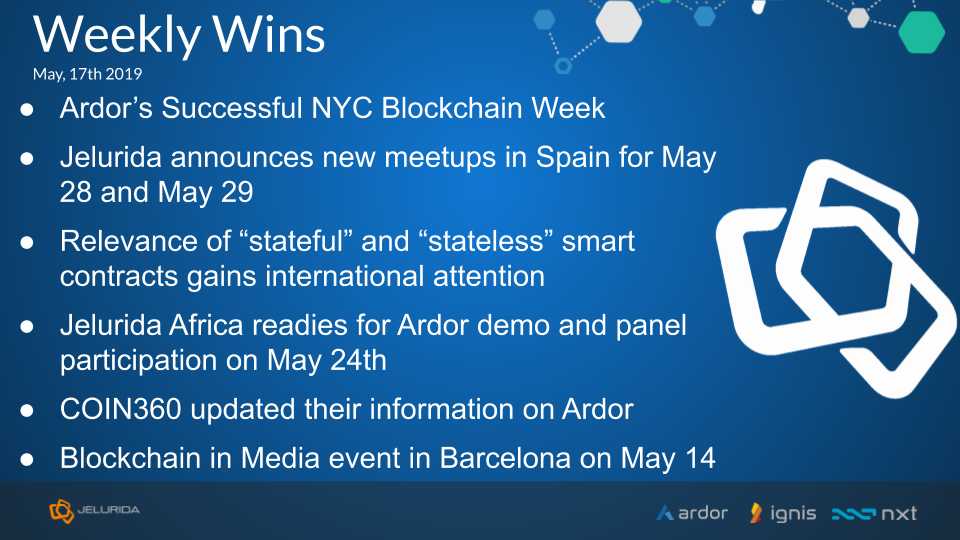 Ardor's Successful NYC Blockchain Week
The Ardor platform was represented at numerous NYC Blockchain Week events this week including Consensus 2019, the launch of the NYC Economic Development Corporation's BigApps Blockchain 2019 Challenge, and the NYC Blockchain Center's "All Things Blockchain" event. Additionally, Skylar Hurwitz organized a sold-out meetup on Wall Street focused on building consumer confidence in blockchain technologies. Some of Ardor's use-centric features like transaction vouchers and Shamir secret sharing paper wallets were demonstrated.
Jelurida announces new meetups in Spain on May 28 and 29
Lior Yaffe will be heading back to Spain to join up with the team there for a series of events during the week of May 27th. This week, two new events were announced. First, there is the Advanced Cryptography in Blockchain event on May 28th hosted by Bcombinator. Then, Lior will give a key note speech on Ardor and Nxt during the Barcelona Bitcoin Community event on May 29th.
Relevance of "stateful" and "stateless" smart contracts gains international attention
Blockchain based smart contracts have been a buzz term for several years, but few people understand the important differences in how contracts store and access data. Now, the terms stateful contract, stateless contract, stateful contract execution, and stateless contract execution have all been defined by Working Group 1 of the International Telecommunication Union's (ITU) Distributed Ledger Technology (DLT) Focus Group.
Jelurida Africa readies for Ardor demo and panel participation on May 24th
A thorough demonstration of Ardor's features will be led by Adedayo Adebajo on May 24th in Lagos. Shortly after that, he will also participate in a panel discussion on "The Future of Money and Decentralized Finance in Africa".
COIN360 updated their information on Ardor
As further indication of the success of the Resource Roundup initiative, COIN360 have updated their information on the Ardor project.
Blockchain in Media event in Barcelona on May 14
As a precursor to the Blockchain in Media event scheduled for May 28th, Veronica Torras led a meetup this past Tuesday, May 14th to give the Barcelona Blockchain for Business community a primer on blockchain technology in media. Anyone in Barcelona interested in learning about this use case should consider RSVPing for the next event.