Jelurida's Weekly Wins
09 March 2019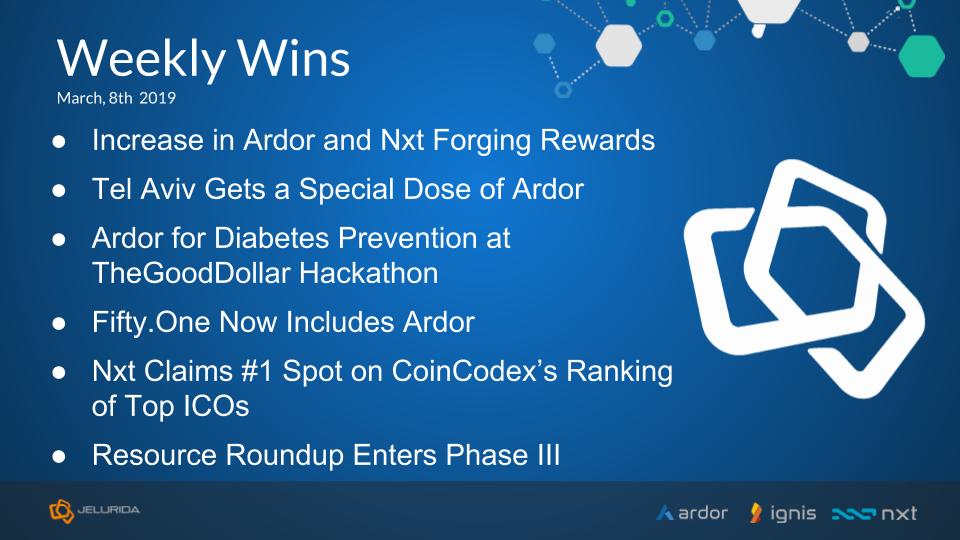 Increase in Ardor and Nxt Forging Rewards
Forging and staking rewards just got MUCH better. Jelurida re-launched the increased rewards program for active forgers on the Ardor and Nxt blockchain platforms with a 3-month commitment worth 2200 euros per month. Now, in addition to the normal transaction fees associated with forging, a random forging account gets selected every 10 blocks and rewarded with 20 IGNIS tokens. Anyone with 1000 ARDR or NXT tokens can opt-in to the new lottery by following the instructions in the official announcement.
Tel Aviv Gets a Special Dose of Ardor
Jelurida co-founder and managing director, Lior Yaffe, was invited to give an 8-minute pitch to the audience at Tel Aviv Fintech Week 2019. Video of the pitch is available online for anyone looking for a quick overview of the Ardor platform's technological marvels.
Ardor for Diabetes Prevention at TheGoodDollar Hackathon
It was a busy week in Israel. After attending Fintech Week, Lior Yaffe teamed up with a participant at TheGoodDollar Hackathon to propose a concept for incentivizing nutrition education programs on the blockchain as a mechanism for combating diabetes. The concept is in the early stages of design but represents an exciting potential use case for the Ardor platform.
Fifty.One Now Includes Ardor
There was an explosion of cryptocurrency rating websites in 2017 and many of them went dark in 2018. This month, the rebranded Fifty.One put out a call for new projects to add to their database and Ardor was immediately added to their site.
NXT Claims #1 Spot on CoinCodex's Ranking of Top ICOs
CoinCodex recently updated the profiles for Ardor, Ignis, and Nxt in their database of projects – and it looks like their team liked what they saw. The site's most recent article highlighted the top 5 ICOs by return on investment of all time and Nxt managed to claim the top spot.
Resource Roundup Enters Phase III
It has been a grueling process, but the team at Jelurida has finally entered Phase III of the resource roundup. Now that all the crypto sites missing Jelurida and its products have been identified, and we have reference documentation drafted, we're beginning the long process of contacting each individual site to make updates reflecting the significant progress of Ardor, Ignis, and Nxt.