Jelurida's Weekly Wins
01 March 2019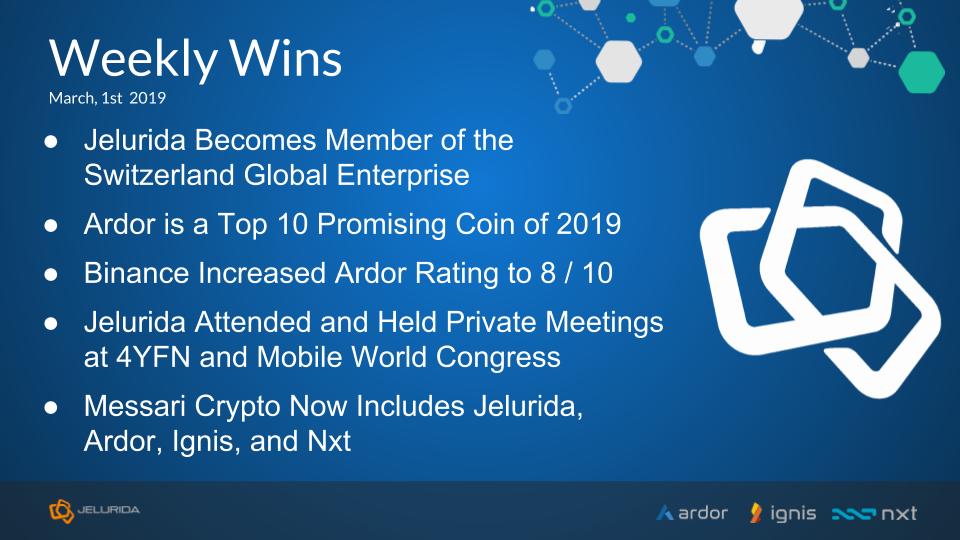 Jelurida Becomes Member of the Switzerland Global Enterprise
Jelurida has secured membership as part of the Switzerland Global Enterprise, unlocking substantial new opportunities for engaging with potential business partners in Switzerland and abroad. The membership also provides Jelurida with increased legitimacy as the company can now present in a booth sponsored by the Swiss government at large events.
Ardor is a Top 10 Promising Coin of 2019
If 2017 was about speculation, and 2018 was a reality-check, 2019 is lining up to be the year of pragmatism. Real technology is on the verge of beating out both the hype and consistent over-promising of leading platforms. There's no better indication of this than Coin Switch ranking Ardor's blockchain as a service offering #3 on its list of top 10 promising projects of 2019.
Binance Increased Ardor Rating to 8/10
Binance's most recent reviews of Ardor have placed the platform in the top tier of projects offered by the reputable exchange. The recent interview between Lior Yaffe and CoinBureau has certainly made an impact with this updated description and 8/10 rating on Binance.
Jelurida Attended and Held Private Meetings at 4YFN and Mobile World Congress
Veronica and Francisco returned to the 4 Years from Now (4YFN) and Mobile World Congress (MWC) events for the second year in a row. Building on the success of last year's pitch, the team scored private meetings with major telecommunications companies this time around.
Messari Crypto Now Includes Jelurida, Ardor Ignis and Nxt
The Messari Crypto VC database and OnChainFx site are some of the leading resources for journalists and companies beginning research on important players in the world of public blockchain networks. The descriptions for Ardor and Ignis received a significant revamp over the past week – and you can now find a company profile for Jelurida.