Jelurida's Weekly Wins
22 February 2019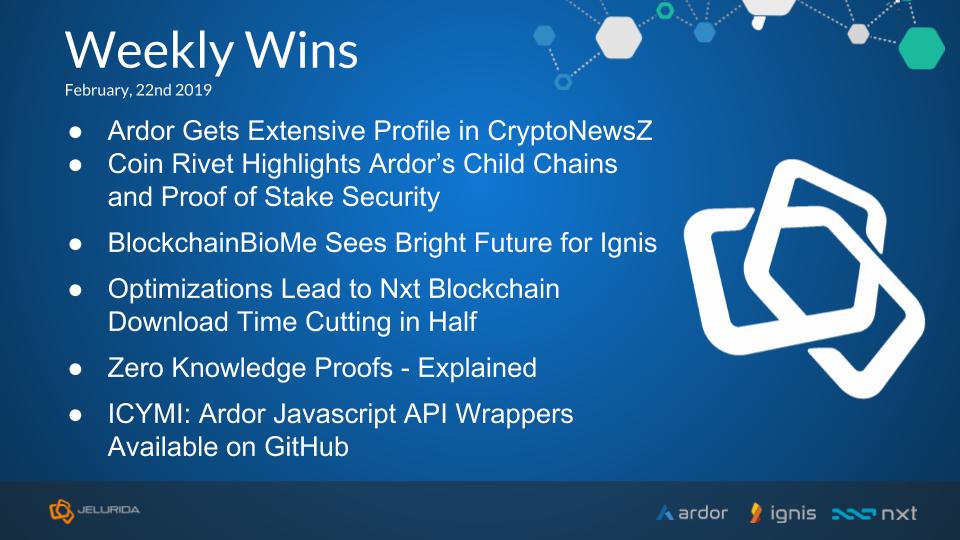 Ardor Gets Extensive Profile in CryptoNewsZ
Ardor is pushing the limits of what is possible with blockchain technology – and it looks like more journalists are beginning to take note. Check out this new profile of the Ardor platform on CryptoNewsZ!
Coin Rivet Highlights Ardor's Child Chains and Proof of Stake Security
Thanks to some extensive discussions on twitter between the Ardor community and author Pedro Febrerro, Ardor was featured prominently in multiple articles on Coin Rivet. Check out this new crypto news site for analysis on contentious blockchain issues, ranging from Proof of Work vs. Proof of Stake to scalability solutions.
BlockchainBioMe Sees Bright Future for Ignis
Last month saw the addition of the Ignis child chain to Messari Crypto's OnChainFx database. This week, an extensive review of the revolutionary Ignis chain was released on the BlockchainBioMe Blog – and the takeaways were quite positive.
Optimizations Lead to Nxt Blockchain Download Time Cutting in Half
The developers at Jelurida are in the middle of numerous optimizations across the Ardor and Nxt blockchains after extensive testing – but the first results are in: the Nxt blockchain now takes just 3 hours to download. That's twice as fast as it used to be. Jelurida is committed to keeping our public blockchain networks decentralized – and keeping the blockchain size manageable for new nodes to easily synchronize is one way we're ensuring that.
Zero Knowledge Proofs – Explained
The buzz around Zero Knowledge Proofs continues to build throughout the blockchain space – but what are they and how do they work? Learn more about ZKPs in this recent blog post from Jelurida co-founder, Lior Yaffe.
ICYMI: Ardor Javascript API Wrappers Available on GitHub
Ardor's APIs are now more accessible than ever – check out the ArdorJS javascript wrappers over on Github. Use these in combination with the Ardor Learning Hub's detailed explanations of the platform's 250+ APIs and you'll be building on the blockchain in minutes. Thanks again to community member aajaji_m for this effort.