Jelurida's Weekly Wins
15 February 2019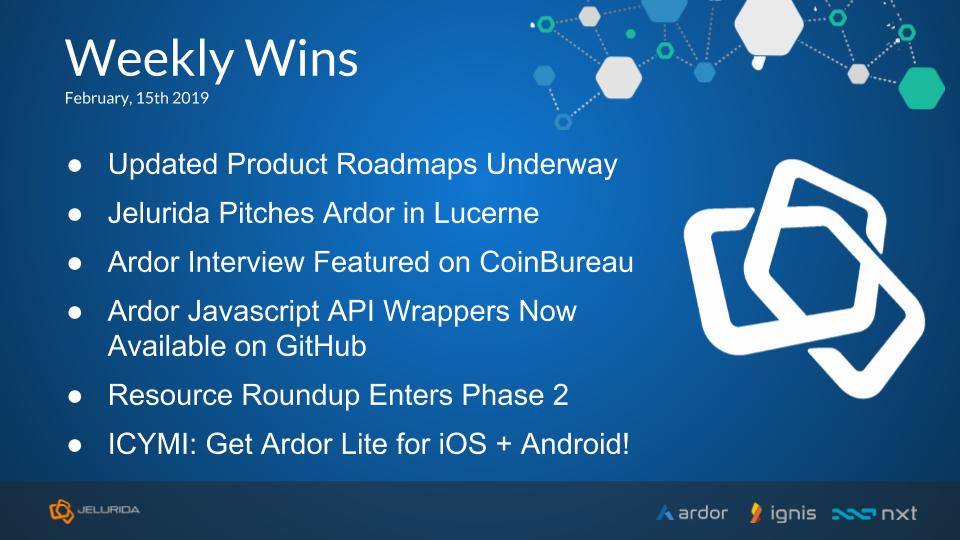 Updated Product Roadmaps Underway
The founding team of Jelurida met at the company's Lugano headquarters to discuss product roadmaps, customers, conferences, branding, and the new website. The updated product roadmaps will be announced in the coming weeks.
Load Testing Lab Setup
A "load test lab" has been constructed in the Jelurida's office, and initial load testing of Nxt and Ardor has begun. More information on results will be announced as they come. Noticeable performance improvements were made to the Nxt blockchain, which resulted in doubling the download speed. This means it now takes a new node less than 4 hours to download the full Nxt blockchain back to 2013.
Jelurida Pitches in Lucerne
Francisco Sarrias was on-site at the University of Lucerne's International Blockchain Forum this week pitching Jelurida's blockchain solutions to a crowd of more than 50 academics, businesses, and diplomats.
Ardor Interview Featured on CoinBureau
Where did the idea for Ardor come from? What makes Lightweight Contracts special? Why should anyone be excited about Ardor? Find out in this extensive interview between co-founder Lior Yaffe and CoinBureau's editorial team.
Ardor Javascript Wrappers Now on Github
Building apps on Ardor and Ignis just got a whole lot easier thanks to the independent efforts of community member aajaji_m. Developers now have access to Javascript wrappers for Ardor platform's APIs. This is an ongoing project with more optimizations expected soon but the code is available on GitHub now!
Resource Roundup Is Entering Phase II
Last month, Jelurida set up an internal project team to collate a list of websites providing info on crypto projects and blockchain companies. With more than 25 sites identified in Phase I of the project, this week, the team has moved to Phase II. Standard documentation is being written up to send out to each of these sites so they can update and/or include Jelurida and its family of products.
ICYMI: Ardor Lite Wallet on iOS and Android
Do you have an Apple or Android device? If so, you've got access to the sleek new Ardor Lite Wallet through the App Store and Google Play thanks to the efforts of community developer mrv777. Download it now and take your crypto with you on the go!