Ardor on Android: Blockchain Anywhere
22 October 2019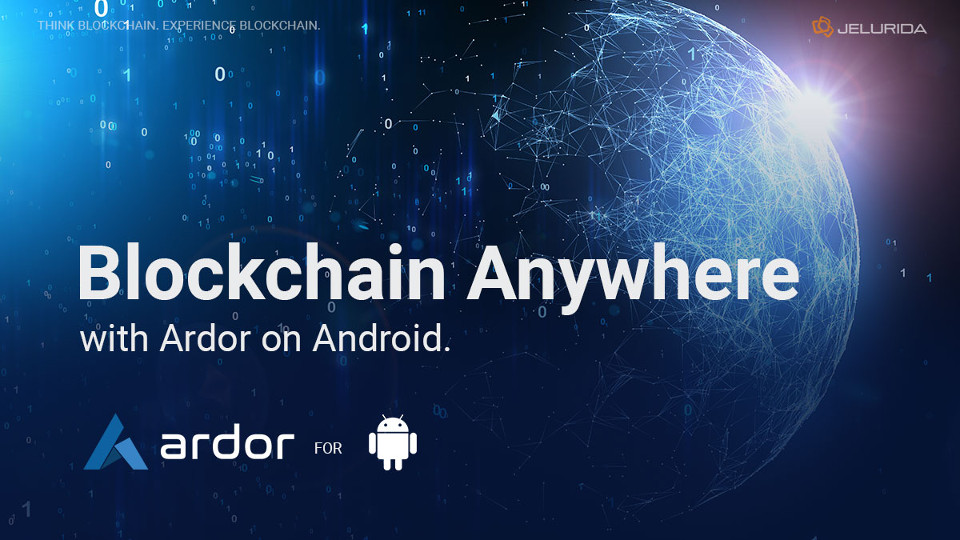 We have released a new package of the Ardor software, allowing users to run a full node on Android OS devices. For the first time, a decentralized blockchain platform enables users to join the network and participate on an equal basis in the proof-of-stake consensus, creating new blocks and processing transactions, only using their mobile phones!
To celebrate this milestone, we are also happy to announce the beginning of our "Blockchain Anywhere" promotion. Let's show how our users can take the blockchain with them anywhere, running in the background on the mobile devices they always carry in their pockets!
Having a proof-of-stake Ardor node running on your phone means you no longer need to setup and maintain a server, or leave your laptop running all the time, in order to forge new blocks. It becomes cost efficient even for minor stakeholders to participate in the consensus, and earn forging fees. This new level of decentralization makes the public blockchain platform much more resilient against external attacks, helping all players in the Ardor blockchain ecosystem.
How to participate in the Blockchain Anywhere promotion:
Download the new Android Full Node package (signed with the Jelurida GPG key).
Follow the Android Full Node tutorial to install and start the Ardor Server on your Android device.
Wait until the blockchain has been downloaded and is up to date. The Ardor Server app also allows you to easily download a bootstrap copy of the blockchain in only a few minutes.
Send us a picture of you holding your Android device to info@jelurida.com. If you wish to remain anonymous, you can for example have your eyes and face partially covered by the Android device. We understand your need for privacy, but we also must prevent multiple submissions by each person, thus the requirement that the phone owner is also in the picture.*
It is not mandatory to start forging, but it should be visible on your device that the blockchain is downloaded and up to date.
Include your Ardor account in your email, to receive a promotion bounty of 1440 IGNIS!** If you generated a new account, make sure you have saved your passphrase somewhere safe! The phone doesn't store your passphrase, you will not be able to use your funds if you did not save it elsewhere!
The duration of the promotion is Oct 22 - Nov 06, 2019. Distribution of the bounties: Nov 10, 2019. Update: As of today, October 29, we received over 100 unique photos and we conclude the promotion which was limited to the first 100 participants. Everybody who sent us pictures before 12 pm UTC on October 29 will receive a bounty! Many thanks to everybody for your participation and awesome pictures! 
You have questions? Ask us on our slack or on ardorforum.org.
*By sending us your picture, you give us an irrevocable and unlimited permission to use it on our website and social media accounts regarding the "Blockchain Anywhere" promotion and marketing activities. Your Ardor account and email address will not be disclosed and will be treated in accordance with our Privacy Policy.
**Limited to the first 100 participants. Jelurida team members are welcome to also send us photos, but are not eligible to receive a bounty.