Jelurida's Weekly Wins
23 八月 2019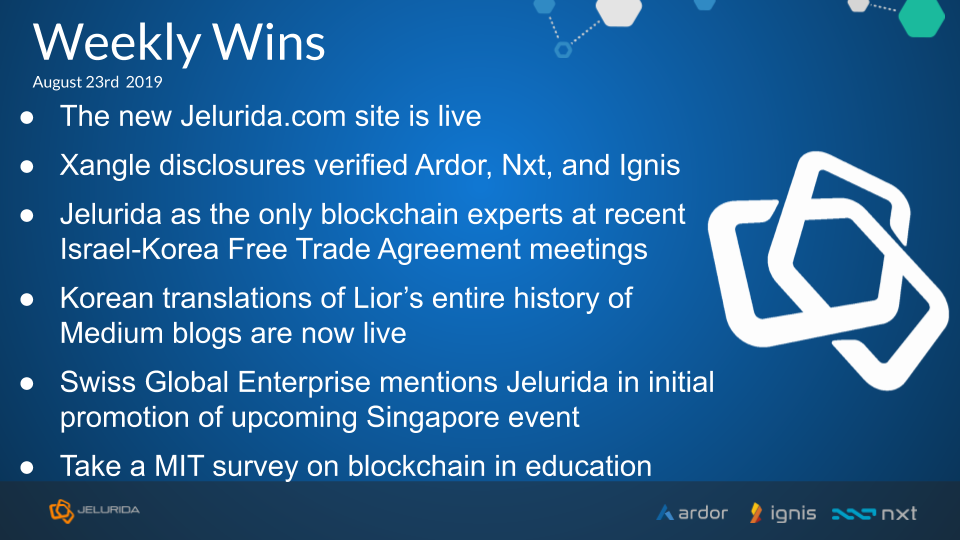 The new Jelurida.com site is live
As promised last week, Jelurida launched its re-designed website on Monday, August 19th. An official announcement about the new homepages for Jelurida's service offerings and each of its blockchain products went out to mark this milestone. Looking ahead, the website will continue to evolve with new sections and content.
Xangle disclosures verified Ardor, Nxt, and Ignis
There is a strong desire in the public blockchain space for project information that can be trusted. With dozens of rating websites and pseudonymous analysts, it can be tough to trust sources. Ardor, Nxt, and Ignis have each now been verified at the "S" level (the highest rating) through South Korea-based disclosures service Xangle, which is seeking to replicate the ESMA and EDGAR disclosure platforms for the crypto market. The data collected by Xangle is used by more than 8 leading exchanges including Korbit and bithumb.
Jelurida as the only blockchain experts at recent Israel-Korea Free Trade Agreement meetings
Lior was on site at the recent Israel-Korea Free Trade Agreement meetings in Tel Aviv as the only blockchain expert in attendance. A number of new connections were made throughout the day of discussions.
Korean translations of Lior's entire history of Medium blogs are now live
Finding a trustworthy technical voice on blockchain technology is like finding a needle in a haystack. As Jelurida Korea builds up its operations and Lior tends to relevant contacts in Israel, the team is proud to announce the launch of a new portal at ArdorKoreanCommunity.org with translations of every single Medium blog post Lior has ever made. Now, our Korean friends can comfortably learn about this complex technology through the writings of one of the industry's leading experts.
Switzerland Global Enterprise mentions Jelurida in initial promotion of upcoming Singapore event 
The Switzerland Global Enterprise is gearing up to heavily promote Swiss-based Fintech companies at the forthcoming Singapore Fintech Festival. Jelurida has already gotten several mentions in articles noting key participants to connect with at the Swiss Pavilion from 11-15 November 2019.
Take a MIT survey on blockchain in education
Interested in how blockchain could impact the education sector? Take this survey in less than 10 minutes and you will help Alex Pfeiffer's efforts to explore this topic through research at the Massachusetts Institute of Technology (MIT). Anyone and everyone is encouraged to participate and share the survey link.