Jelurida's Weekly Wins
16 三月 2019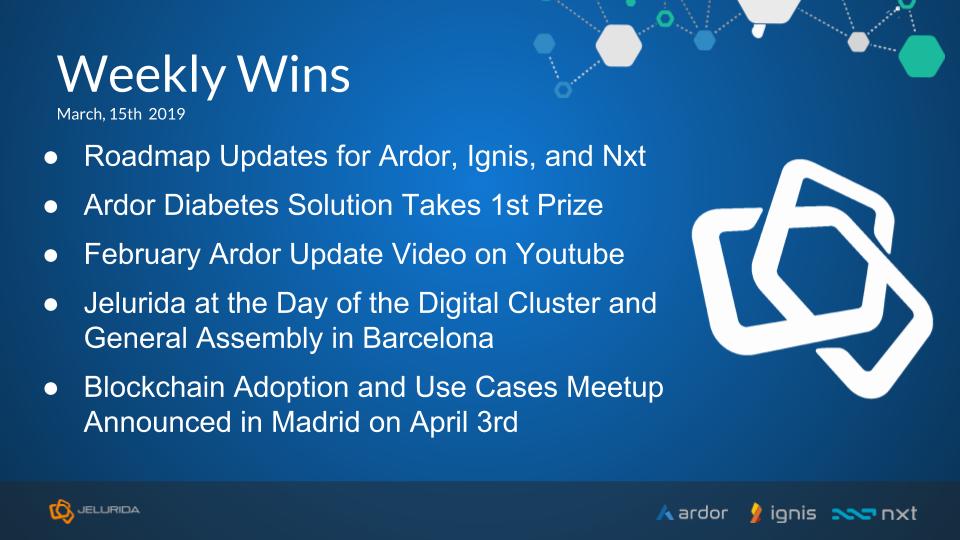 Roadmap Updates for Ardor, Ignis, and Nxt
Jelurida announced an exciting new 2019 roadmap for the Ardor, Ignis, and Nxt platforms. Major highlights include child chain control to enable more complex business use cases, transaction pruning to improve scalability, and full nodes on android devices to enable IOT applications. That's just a start – check out the full roadmap now. For those interested in a more visual roadmap, community member Madfox has got you covered.
Ardor Diabetes Solution Takes 1st Prize
Last week, Lior Yaffe partnered up with a charitable donations specialist to begin conceptualizing a proof of concept for an ROI incentive model to combat diabetes in high-risk individuals at The Good Dollar Hackathon. This week, the build out occurred, the idea was pitched, and the solution won first prize. Watch the video now!
February Ardor Update Video on Youtube
Get your monthly summary of community and company updates in the latest installment of Ardor Updates! The video underscores major achievements in February like the Ardor Lite wallet getting on the iOS App Store, the relaunch of the opt-in only forging rewards program, an interview with CoinBureau, and Binance ratings increasing to an 8/10. Watch the full video for the latest recap.
Jelurida at the Day of the Digital Cluster and General Assembly in Barcelona
Blockchain is set to disrupt existing business designs – and Jelurida has consistently been a leader on the topic. Francisco Sarrias joined major corporations in Barcelona and participated on a panel discussing the ways in which blockchain will change the way many businesses operate.
Blockchain Adoption and Use Cases Meetup Announced in Madrid on April 3rd
Jelurida is proud to be sponsoring the Blockchain Adoption: Use Cases, Opportunities, and Challenges event in Madrid on April 3rd. The evening will feature an introduction from the International Telecommunication Union (ITU) on their DLT Standardization Report, followed by a panel discussion featuring representatives of IBM, Liberbank, Telefonica, ISDI, and Jelurida.